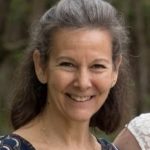 A Message from our Pastor
Welcome to Mays Chapel UMC! I'm Pastor Laurie Tingley Our mission statement here at Mays Chapel United Methodist Church is to accept God's love and give it away. John 3:16 is probably the most oft quoted scripture in the Bible. It's so well known that you'll even see it at football games and other sporting events. "For God so loved the world that [God] gave [God's] only Son that everyone who believes in him may not perish but have eternal life." The people of Mays Chapel have embraced a great truth – that God loves the world and all of God's creation. And that our life has meaning only because of the love of God! No matter how busy we are, no matter how many things we have, no matter the number of our friends and family — life is has no meaning without Jesus.
The reason our church exists is to help people fulfill their deep spiritual longing to experience the love of God personally and have a living relationship with Jesus through the power of the Holy Spirit. When we worship, when we study God's Word, when we pray, and when we serve those who are hurting, our goal is always to accept God's love and to give it away.
We understand that our journey of truly experiencing God's love for us and freely sharing God's love with the world cannot be undertaken alone. We depend on others to guide us, nurture us, challenge us, and encourage us along the way. It is our heartfelt prayer that you will join us on this journey: